No-Bid Contracts and Campaign Contributions Surround Bankrupt Project in Collingswood
One of the hallmarks of New Jersey's traditional no-bid contracting system was the nearly unlimited discretion of the agency awarding the contract in selecting a politically favored vendor. In practice, fair-and-open requirements do not materially change that substantial discretion.
- Matthew Boxer, New Jersey Comptroller
Studying the history behind  The Lumberyards boondoggle  can only lead to more questions.
The first being what was the relationship between the public officials and the now reportedly "bankrupt" developer? Did this relationship in any way effect the performance of the contract and/or lead to the failure?
One aspect of the relationship between the developer, John Costanza (pictured above) of Costanza Builders as well as Lumberyard Redevelopment LLC, and the public officials, Mayor Jim Maley, Commissioner Joan Leonard and Commissioner Michael Hall was campaign contributor:

[Source: NJELEC]
There is some ambiguity in the ELEC electronic entry of when precisely Costanza Builders made each donation – one appears to be in 2006 and one is apparently later – both went to the 2009 Join Candidates Committee.
The contract for developing the property, despite the now quite apparent difficulty of the project, was handed to Costanza and not put out for competitive bid, from the Retrospect:
Maley said that the borough is currently finalizing an agreement with Costanza Residential LLC, to redevelop the Peter Lumber site. Costanza was awarded a no-bid professional service contract in Jan. 2004 to act as development manager to oversee the project. Costanza receives $5,000 a month from the borough, plus expenses.
The project would stay with John Costanza but be transferred from Costanza Residential LLC to Lumberyard Redevelopment LLC – why? It is not clear. From the New Jersey Treasurer's office: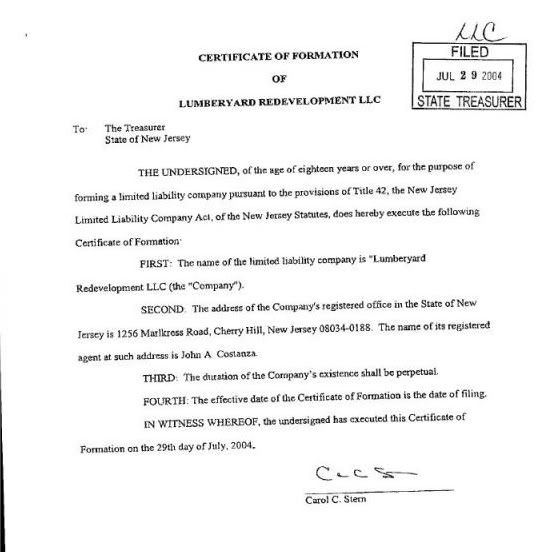 More to come.